Seahorse Bay Kitesurf Spot in Al-Bahr al-ahmar
Africa Kiteboard Spot in Egypt
Seahorse Bay Kitesurfing Spot is one of those dreamy flat water areas in Egypt that have had kite schools from the very beginning, and remain popular to this day. Several of the big German companies call this their home in Egypt and for good reason, with stunning crystal clear water, wind for most of the year and perfect kitesurfing conditions from total beginners up to professional freestyle kitesurfers. The local area doesn't offer much in the way of traditional Egyptian history, but you can fly cheap from most European countries, it's warmer than Europe, and Kitesurfing at Seahorse Bay offers great flat water experience without the crowds that you'll normally find at some other Kitesurf Spots in Hurghada itself like Kitesurfing in Soma Bay or Kiteboarding in Hurghada Bay.
Have you been Kiteboarding in Seahorse Bay?
Contact us to help Kitesurfers to get high quality information and check out our favorite Spots for Kitesurfing in Africa.
Kitesurf nearby
Kitesurf Schools
Coming soon
Seahorse Bay
beginner, sandy beach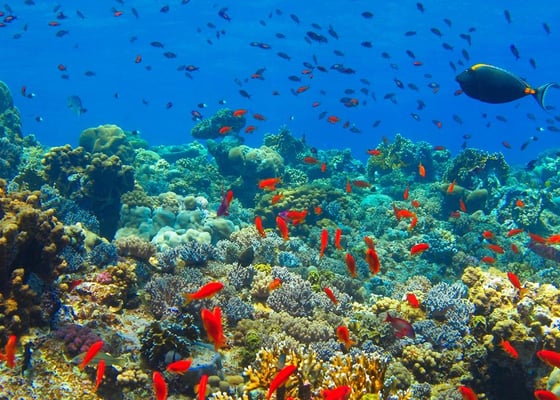 Seahorse Bay Kitesurfing wind conditions
Kitesurfing in Egypt is possible all year round, but the main kitesurfing season is from March/April until the end of October. Generally there are two peaks in the wind, once in about June, and the other in September when you can almost guarantee wind. During August it gets very hot and the thermal wind dies off a little, so it can leave you without wind if you are unlucky, but you can still normally kitesurf the majority of days through the whole season. The winter months from November until March are less of a sure thing, but you can still get good conditions, and it can make for a nice break from a dreary European winter.
The water is flat to choppy here in Seahorse Bay depending on the wind strength and the tide. Advanced kitesurfers will love it at low tide when the pools appear and the water is at its absolute flattest, but should watch out for really shallow patches! You can kitesurf at any tidal state, but the best bet is to ask the local schools for any dangers when arriving at any new spot.
ride type

freeride
freestyle
wakestyle

skill level

beginner
intermediate
advanced
professional
Wind Stats for Seahorse Bay Kiteboarding
Around the Kiteboarding Spot Seahorse Bay
Seahorse Bay is a sleepy little Kitesurf Spot, so if you want a bigger party you'll want to visit El Gouna or Hurghada. Most restaurants are contained within the hotels and offer a range of different cuisines, but there are some local options if you want to take a wander. You can also visit the cable park in El Gouna if the wind dies, blast around on a jetski, or go diving and experience some of the stunning coral reefs the Red Sea is known for.
If you want to see the traditional Egyptian history you'll need to head further afield, but you can organise trips to Luxor and Aswan from Seahorse Bay, and even take a couple days and fly up to Cairo to see the Pyramids at Giza.
camper parking

Not allowed, but possible

emergency

A medical center
A rescue service
Kite repair
How to get to Seahorse Bay and how to bring it about while you're there
You'll want to fly to Hurghada (HRG) and get a taxi from there to Seahorse Bay, or rent a car if you plan on exploring up and down the coast a little more. For the most pain free experience on arrival it's best to organise a taxi in advance, as the local taxi drivers will definitely try to rip you off. If you do decide to just get one on arrival be sure to haggle HARD and agree a price up front.
Notice
We recommend you to organize a transport from the airport to your place to stay in advance. There is a high chance that your plane will arrive late night and there are not enough Taxis to grab. If you do have a weak stomach make sure to bring some medication with you. Make sure to bring some warm clothing with you, it might get cold at night. Accommodations are rare in this region. we advise you to book in advance.
Not exactly what you are looking for? Use our Kiteboarding Spot Search to find your perfect Kite Spot now!
Wind Forecast for Seahorse Bay Kitesurfing
FAQs