Hurghada Bay Kitesurf Spot in Al-Bahr al-ahmar
Africa Kiteboard Spot in Egypt
Hurghada, Egypt's original kite spot, has grown into one of the Red Sea's most popular kiteboarding destinations, thanks to its consistent wind, shallow, flat water and affordable package deals. The place is awash with hotels covering all budgets and styles, and the town is home to numerous bars and nightclubs. The incredible variety of weird and wonderful sea life found in the Red Sea near Hurghada initially brought the town to global attention as a diving hotspot, but in recent years kitesurfing has exploded in popularity there. The combination of warm, shallow, flat water and really consistent winds make it a perfect place for everyone from total beginners to professional kitesurfers.
Kitesurf nearby
Kitesurf Schools
Coming soon
Hurghada Bay
beginner, sandy beach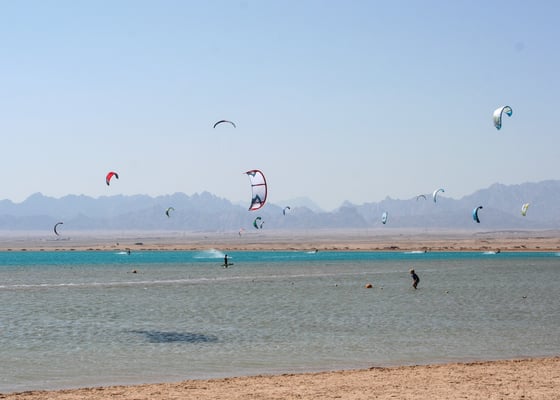 Hurghada Bay Kitesurfing wind conditions
Summers in Hurghada are long, hot, arid, and clear; winters are chilly, dry, and although there is an occasional bit of rain it's not common. There is wind throughout the year, but the strongest and most reliable winds blow on average 20 to 25 knots from May until October. A lot of kitesurfers who visit Egypt speak of the incredibly stable 'hair dryer wind' as it's warm and constant, and sometimes it can go weeks without a wind-free day. The winter months are a little less consistent, but still 60% of days are likely to have wind for kitesurfing so it's still a great kite destination.
During the summer it's board shorts and t-shirt weather, the water is always warm and the air temperature in July/August can sometimes reach 40+ degrees celsius, so be sure to pack your sun cream and a hat! During the cooler months October until April you will most likely want a neoprene top for kitesurfing or even a summer wetsuit, and you might want to pack a full wetsuit (3/2 should be fine for most people, although if you are a cold person maybe go thicker) if you are there around December-February.
ride type

freeride
freestyle
wakestyle

skill level

beginner
intermediate
advanced
professional

wind daytime

in the afternoon
midday
in the morning
Wind Stats for Hurghada Bay Kiteboarding
Around the Kiteboarding Spot Hurghada Bay
Hurghada is a famous tourist getaway for northern Europeans, and traveling slightly South of the main town will bring you to Sahl Hasheesh, home to some of the nicest white-sand beaches and hotels along the Red Sea coast. 30-45 minutes drive North you'll find El Gouna, another (slightly more upmarket) resort town, with a large variety of restaurants and bars, and also the cable park for no wind wakeboarding days. Diving is another option which is great on the periodic no wind days.
There are also all the usual Egyptian historic and cultural trips which are highly recommended to anyone visiting Egypt. Luxor and Aswan are stunning and a Nile trip is an incredible experience. Cairo and The Pyramids at Giza are a bit further away but also a fantastic way to spend a few days, just don't forget there are plenty of other pyramids in Egypt too if you don't want to travel all the way to Cairo. You can book trips through any accommodation provider or a reputable trip provider in Hurghada itself, or organise it yourself if you are feeling more adventurous.
camper parking

Not allowed, but possible

emergency

A medical center
A rescue service
Kite repair
How to get to Hurghada Bay and how to bring it about while you're there
Hurghada has an international airport (HRG/HEGN) with direct flights to Europe and the Middle East's major airports, with flights ranging from 3-5 hours long. Once you arrive at Hurghada Airport, the best bet is to take a taxi to your final destination, just be sure to make sure there is a working meter OR that you agree on a price beforehand, as Egyptian taxi drivers are well known for ripping off unsuspecting tourists.
Generally taxis are the best way to move around but buses can also be a great budget option particularly for longer trips. If you want to rent a car it's also possible, just be aware that not all Egyptian roads are in the best state of repair, and sand can drift across the road causing visibility and grip issues, so just drive safely.
Notice
We recommend you to organize a transport from the airport to your place to stay in advance. There is a high chance that your plane will arrive late night and there are not enough Taxi to grab. If you do have a weak stomach make sure to bring some medication with you Make sure to bring some warm clothing with you, it might get cold at night Accommodations are rare in this region ? we advise you to book in advance
Not exactly what you are looking for? Use our Kiteboarding Spot Search to find your perfect Kite Spot now!
Wind Forecast for Hurghada Bay Kitesurfing
FAQs