Kitesurfing in Madagascar
Kitesurfing in Madagascar - find your perfect Kite Spot
Madagascars beautiful coastline is a paradise for kitesurfing enthusiasts. With its crystal-clear waters and steady winds, the northern coast offers some of the best kitesurfing spots in the world. Diego Suarez Bay, with its long sandy beach and consistent winds, is a popular destination for kiteboarders. The islands unique flora and fauna, vibrant culture, and delicious cuisine make Madagascar an unforgettable destination for any kitesurfing enthusiast looking for a unique adventure.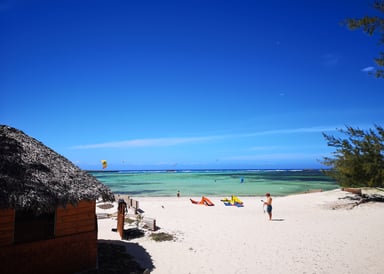 Madagascar - Baie de Sakalava
Baie de Sakalava, or more commonly, Sakalava beach, is a marvelous sandy beach in the country of Madagascar. Located far north of this island country, this place sits perfectly to face the vast Indian Ocean to its East. The sandy shores of this beach run over a mile long. The stretch of green mangroves and the blue lagoon enhances the beauty of this place. Sakalava beach offers a bunch of fantastic beach sports, which include windsurfing, snorkeling, stand-up paddling, kajak, and even fishing.

Madagascar - Mer d Emeraude
Kitesurfing in the beautiful clear seas of Madagascar's Emerald Sea, AKA Mer d'Emeraude, is a fantastic excursion option. The Emerald Sea, near Diego Suarez in the far north of the island, is a hidden kitesurf spot with tons of space, perfect flat water on the inside of the lagoon and waves on the outside.
The Emerald Sea lagoon, separated from Diego-Suarez Bay by the Babaomby Peninsula, is an incredible kiteboarding playground. With a length of 12 kilometers, it offers a vast kitesurfing area with different options for different riders. If you are at a good enough level it's well worth organising a downwinder here to see the lagoon while passing through fishermen's villages and surfing some perfect waves on the reef.