Vilanculo Kitesurf Spot in Inhambane
Africa Kiteboard Spot in Mozambique
Mozambique has been growing in popularity among kitesurfers in recent years, and Vilanculos is one of the Kite Spots which has put itself on the map early on. With stunning turquoise lagoons and trade winds blowing for nearly 8 months of the year you've got a decent chance of scoring epic kitesurfing conditions if you visit in season! The kite spot at Vilanculos is a flat water spot, with large areas of waist deep crystal clear water and various sand bars creating perfect freestyle kiteboarding conditions at low tide. There are also some waves on the outside but generally better to take a boat out with you for safety and maybe do a big downwinder.
Mozambique is a stunning country with plenty to explore other than kitesurfing if you are feeling adventurous, but don't come expecting a simple package holiday as it's not a big built up tourist location. There is an incredible amount of beauty in the country for those willing to look for it, and the stunning natural landscape makes it a photographer's dream.
Kitesurf nearby
Kitesurf Schools
Coming soon
Vilanculo
beginner, sandy beach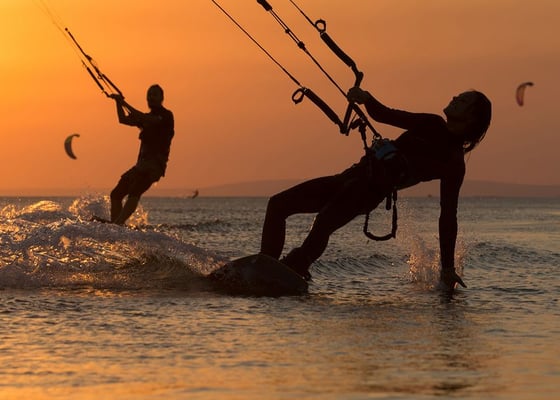 Vilanculo Kitesurfing wind conditions
The trade winds blow in Vilanculos from about April to September, and you'll average between 15-22 knots most days, and there are multiple spots here to launch and land depending on the wind direction. Low tide the sand bars appear and the water is the flattest but you need to be careful of the razor clams which appear in various spots. The tidal range here can be extreme on spring tides, so ask for advice from the local kite schools if in doubt. Speaking of, learning here would be a dream location, as the temperature is perfect, the wind is ideal and the conditions are almost unbeatable! Generally flat water on the inside of the lagoon and outside some waves, this is also a popular spot for starting a 30km downwinder, which can be organised with the local kite schools.
ride type

freeride
freestyle
wakestyle

skill level

beginner
intermediate
advanced
professional
Wind Stats for Vilanculo Kiteboarding
Around the Kiteboarding Spot Vilanculo
This is a super chilled spot, so the main attractions are relaxing, chilling or hanging out. But you can organise a beach horse ride, head into town to the market to buy some local produce or touristy bits and bobs, or go diving and check out the only marine national park in Mozambique. The surrounding area is insanely beautiful so there are various other tours offered, from boat rides to jungle adventures, you can choose what suits your taste.
camper parking

Not allowed, but possible

emergency

A medical center
Kite repair
How to get to Vilanculo and how to bring it about while you're there
You can either fly to Maputo (MPM) and get a bus or drive from there, which will take about 8 hours, or you can fly direct to Vilanculos airport (VNX). The flights are a little less regular but you don't have the huge long road journey at the end! If you want to really explore then renting a 4x4 is a good idea, but if you just want to kite and stick around the spot you can just get a taxi from the airport and rely on your accommodation or the kite schools for your transport needs.
Notice
Watch out for sea urchin. Wear neo shoes, if you walk through the water.
Not exactly what you are looking for? Use our Kiteboarding Spot Search to find your perfect Kite Spot now!
Wind Forecast for Vilanculo Kitesurfing
FAQs