Essaouira Kitesurf Spot in Marrakesh-Safi
Africa Kiteboard Spot in Morocco
Located in the western region of Marrakesh-Safi, Essaouira is a beautiful city on the coast of the Atlantic Ocean, and a prime kitesurf spot. For a long time, the city has remained the main anchorage in the Moroccan region. The legendary rock guitarist Jimi Hendrix wrote his song "Castle Made Of Sand" after visiting Essaouira. In fact, this place famously hosted the first kitesurfing competition in 1997. So, naturally, you can say that Essaouira is historically famous as a kite spot. In recent years, many enthusiastic kitesurfers travel there to enjoy their kiteboarding adventures or simply watch mesmerizing kites soaring the sky.

Kitesurf nearby
Kitesurf Schools
Coming soon
Essaouira
beginner, sandy beach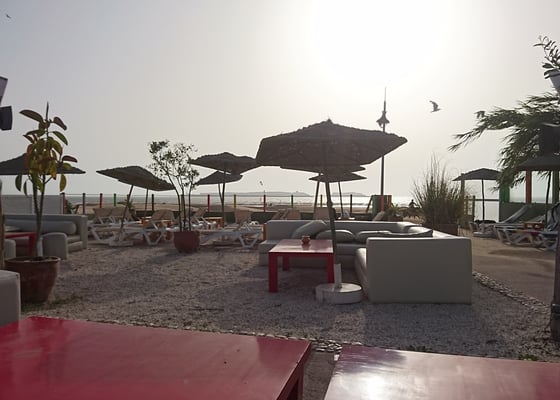 Essaouira Kitesurfing wind conditions
Essaouira provides one of the best wind conditions for kitesurfing in Morocco. The wind flow over here is constant throughout the day. Most importantly, the wind direction is also stable, thus, reducing the chance of accidents. June to August are peak seasons. So, naturally, the wind speed rises and remains between 17 to 35 knots. And the temperature stays around 19 to 25 degrees Celsius. Therefore, the perfect time to visit this place is between these months. However, during the early seasons, i.e., April and May, the wind speed stays between 16 to 18 knots. And during the late seasons, i.e., September and October, the wind speed revolves around 23 knots. Nevertheless, Essaouira is a thermal spot, which means the wind forecast is not completely reliable. For additional information about the wind condition, you can contact the local kite schools.
ride type

freeride
freestyle
wakestyle
wave

skill level

beginner
intermediate
advanced
professional
Wind Stats for Essaouira Kiteboarding
Around the Kiteboarding Spot Essaouira
Essaouira is perhaps the most famous kite spot around Morocco. The endless beaches without any obstacles make kitesurfing an amazing experience. From absolute beginners to advanced kiteboarders, everyone can enjoy their adventure of kiteboarding in this place. Plus, this place is perfect for expert-level freestylers, freeriders, and wake stylers. Moreover, you will find numerous kite schools around the location. And during the winter months, pro kitesurfers can enjoy an area of 100 to 150 meters waist-deep prior to the swell. You will find accommodations near the kite spot with vibrant surroundings and a friendly atmosphere.
emergency

A medical center
A rescue service
Kite repair
How to get to Essaouira and how to bring it about while you're there
If you plan to visit Essaouira then along with kitesurfing, you must check out the Mediterranean and Arabic cuisines. The place also houses a beautiful Medina, where you will witness an exhibition of characters and colors. Besides, don't forget to visit the local markets to bring some souvenirs from your memorable vacation. The place is rich in history, from its Portuguese establishment in the 15th century to its 1960's Hippie cultures. So, we recommend you go for some cultural sightseeing to witness all the historical artifacts the place has to offer. Furthermore, you will get your regular seaside activities, including diving, windsurf, wave surfing, stand-up paddling, and many more.

For all you international travelers, Essaouira-Mogador Airport is the closest airport to the location. From there, the Essaouira beach is just about 16.4 km away. Hence, it will hardly take 19 minutes to reach the beach via P2201. And for convenient and hassle-free rides, we do recommend hiring a rental car.
Not exactly what you are looking for? Use our Kiteboarding Spot Search to find your perfect Kite Spot now!
Wind Forecast for Essaouira Kitesurfing
FAQs