Dakhla Speed Spot Kitesurf Spot in Dakhla-Oued Ed-Dahab
Africa Kiteboard Spot in Morocco
The Kitesurfing Speed Spot in Dakhla is probably the best known freestyle Kiteboarding Spot in Morocco, with a huge area of butter flat water at low tide, and pumping wind almost every day during the season. The wind blows directly offshore so it's not a beginner Kite Spot, you need to at the very least be able to kitesurf upwind, and being comfortable with how to self rescue is definitely helpful too! If you come from one of the kite accommodations some offer a boat rescue service but not all, so it's worth checking how it works before you head out Kitesurfing in Dakhla Speed Spot. It's a stunning and remote spot in the middle of the desert, but it's amazing and there's a good reason for its popularity.
The easiest way to get to Dakhla - Speed Spot for Kiteboarding is with a boat, 4x4 or get a ride with a tractor out to the spot, just remember the tide will come in at some point so leave any belongings in a high and dry place. You can also just kite over to speed spot, it will just require a bit of a downwind and then upwind slog but it's very doable.
Kitesurf nearby
Kitesurf Schools
Coming soon
Dakhla Speed Spot
beginner, sandy beach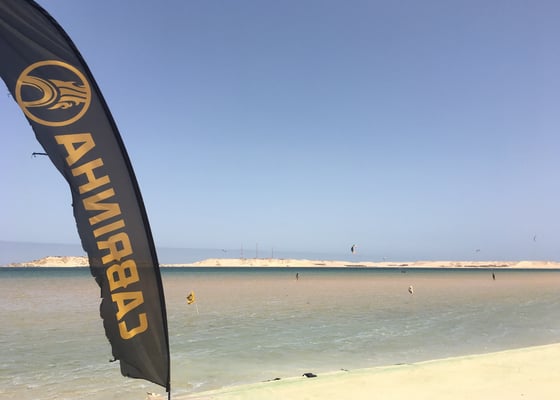 Dakhla Speed Spot Kitesurfing wind conditions
This spot only works at low tide! The main season for Kitesurfing in Dakhla is from May until September, when the temperature is around 18-25 C and the wind generally blows between 17 and 35 knots most days. However there is wind almost all of the year and you can get very good conditions even in March if you are lucky, it will just be a bit colder outside of the main summer season. A wetsuit is recommended as the water can be chilly, and pack some warm clothes for after a session as the temperature really drops overnight in the desert.
As mentioned the wind at Dakhla - Speed Spot blows directly offshore and there isn't an on the spot rescue unless you bring it with you, so this is NOT for beginners. But the flat water at low tide makes it an absolute paradise for freestyle kiteboarders looking to work on big jumps and awesome new tricks. You'll very often find pro riders coming here to train, and there is a world tour event in Dakhla every year so you'll often bump into famous kiteboarding faces.
ride type

freeride
freestyle
wakestyle

skill level

beginner
intermediate
advanced
professional
Wind Stats for Dakhla Speed Spot Kiteboarding
Around the Kiteboarding Spot Dakhla Speed Spot
Dakhla is a sleepy little place, with most of the eating and drinking done at the various resorts and camps in the area, which for the most part are full board. If you venture into Dakhla itself you'll find a traditional Moroccan town and can find some real local food to try, but there isn't much else going on.
If the wind does fail you and you can't kitesurf at all, most of the kite camps offer surf trips to nearby breaks, and there are desert sightseeing trips available. Luckily the wind is pretty consistent in Dakhla so you're rarely going to want to do anything other than kite anyway!
camper parking

Not allowed, but possible

emergency

A medical center
A rescue service
Kite repair
How to get to Dakhla Speed Spot and how to bring it about while you're there
Fly to Dakhla international airport (VIL) and take a taxi or rent a car to get to your accommodation. If you want to regularly kitesurf at speed spot then renting a 4x4 is a good plan as you can drive to the spot yourself. It generally takes between 20 and 40 minutes to get to the accommodations around the Dakhla lagoon, depending where you choose to stay.
Notice
We recommend you to organize a transport from the airport to your place to stay in advance. There is a high chance that your plane will arrive late night and there are not enough Taxi to grab. If you do have a weak stomach make sure to bring some medication with you. Make sure to bring some warm clothing with you, it might get cold at night. Accommodations are rare in this region, we advise you to book in advance.
Not exactly what you are looking for? Use our Kiteboarding Spot Search to find your perfect Kite Spot now!
Wind Forecast for Dakhla Speed Spot Kitesurfing
FAQs