Dakhla Main Spot Kitesurf Spot in Dakhla-Oued Ed-Dahab
Africa Kiteboard Spot in Morocco
The Dakhla Main Kite Spot is a very well known Kite Spot where most time europeans enjoy their passion during all year. There are serves ingenious kite conditions on around 330 kitebare wind days. The 4 kilometers of paradise for freestylers and shallow water fans, where you can either kite or book a transport. The wind is offshore, so do not go out alone.
Kitesurf nearby
Kitesurf Schools
Coming soon
Dakhla Main Spot
beginner, sandy beach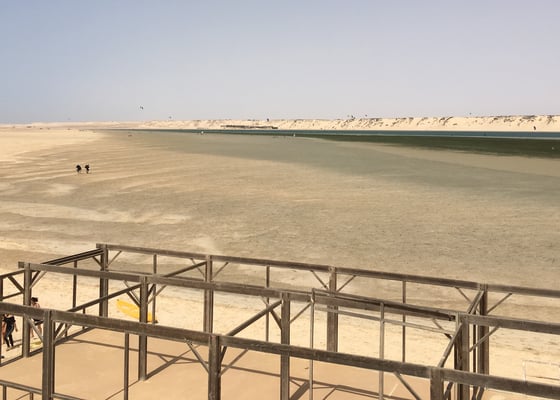 Dakhla Main Spot Kitesurfing wind conditions
The kitesurfing wind conditions in Dakhla - Main Spot are known to be exceptional, attracting kiteboarders from around the world. Here's a description of the wind conditions you can expect in Dakhla - Main Spot:
Consistent Trade Winds: Dakhla benefits from the reliable and consistent trade winds, predominantly blowing from the north/northeast. These winds, known as the "Dakhla Spirit," provide ideal conditions for kitesurfing throughout the year.
Strong and Steady: The wind in Dakhla - Main Spot is generally strong and steady, with average wind speeds ranging from 15 to 25 knots. It's common to experience consistent wind patterns that allow for extended kitesurfing sessions.
Thermal Effect: The region's geographical features contribute to the thermal effect, enhancing the wind conditions. The desert heat combined with the cool ocean temperatures creates a natural funnel effect, intensifying the wind as it funnels through the Dakhla lagoon.
Cross-Shore Winds: The prevailing winds in Dakhla - Main Spot are cross-shore, which means they blow parallel to the shore. This setup provides a safe and spacious area for kitesurfers to ride, as the wind carries them away from the coastline.
Large Riding Area: The expansive Dakhla lagoon offers ample space for kitesurfers of all levels. Beginners can enjoy shallow and calm areas close to the shore, while more experienced riders can venture out to deeper waters and explore the open lagoon for exhilarating freestyle or wave riding.
Year-Round Kitesurfing: Dakhla is renowned for its year-round kitesurfing season. While the wind is most consistent from April to September, kitesurfing is possible throughout the year, with the wind remaining reliable even during the winter months.
With its consistent, strong, and cross-shore winds, Dakhla - Main Spot provides kitesurfers with optimal conditions for thrilling rides and endless hours of enjoyment on the water.
ride type

freeride
freestyle
wakestyle

skill level

beginner
intermediate
advanced
professional
Wind Stats for Dakhla Main Spot Kiteboarding
Around the Kiteboarding Spot Dakhla Main Spot
In case of urgency there is a rescue service, medical center and kite repair. Dakhla - Main Spot in Dakhla-Oued Ed-Dahab offers during peak season in April, May, June, July, August and September activities such as Day Trips, Golf, Stand Up Paddling, Quad Bikes and Windsurf. Near the kite area of Dakhla - Main Spot in the wider area of Dakhla-Oued Ed-Dahab you will find a popular and trendy environment. Accommodation are located right at the Kite Spot and nearby the Kite Spot.
camper parking

Not allowed, but possible

emergency

A medical center
A rescue service
Kite repair
How to get to Dakhla Main Spot and how to bring it about while you're there
Closest Airport to the Spot is Dakhla Airport - VIL. The nearest Town is Dakhla City. Public transport is generally rather bad. We do not recommend to rent a car.
Notice
We recommend you to organize a transport from the airport to your place to stay in advance. There is a high chance that your plane will arrive late night and there are not enough Taxi to grab. If you do have a weak stomach make sure to bring some medication with you Make sure to bring some warm clothing with you, it might get cold at night Accommodations are rare in this region, we advise you to book in advance
Not exactly what you are looking for? Use our Kiteboarding Spot Search to find your perfect Kite Spot now!
Wind Forecast for Dakhla Main Spot Kitesurfing
FAQs