Anse La Raie Kitesurf Spot in Grand Baie
Africa Kiteboard Spot in Mauritius
Anse La Raie Kite Spot is getting more popular as Mauritius gets explored further and people venture away from the well known spots in Le Morne. Offering a huge lagoon thanks to the barrier reef 2.5km offshore, this is a great spot for anyone not comfortable kitesurfing in the waves, or who wants flat water to practice their latest and greatest freestyle tricks. There are a couple of wave spots breaking over the reef here, which are nice to ride but the reef is shallow so better left to those with more kitesurfing experience!
Mauritius has been a popular kitesurfing and honeymoon destination for years now, so there are various options for all your kitesurfing needs, just be prepared that the prices can be a little on the higher side when compared to some other island destinations. It's also less of a solo traveller destination, and tends to attract more families, groups and honeymooners, so bear that in mind.
Kitesurf nearby
Kitesurf Schools
Coming soon
Anse La Raie
beginner, sandy beach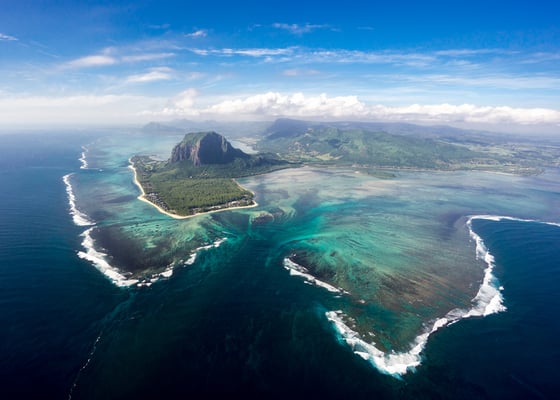 Anse La Raie Kitesurfing wind conditions
Kitesurfing is possible year round in Mauritius, but if you really want to make sure you give yourself the best chance for wind, then June to September is the most reliable time for over 20 knots. Other than that it's a 50/50 gamble at other times of year (which is still pretty good compared to some other kite spots!). The water on the inside of the reef is pretty flat to a little choppy depending on where exactly you kitesurf, and you'll have some waves breaking over the reef. Just watch out for the occasional rocky shallow patch, but since the water is crystal clear they are easy enough to avoid. Beginners can learn here, and the local schools generally teach from a boat as the water is too deep to stand in a lot of the lagoon area.
The wind generally picks up around 10am and blows until sunset, but can be difficult to predict on Mauritius, so checking with the local kite schools is a good idea if you are unsure. It's the kind of place you just have to wake up and look out the window to see if it's good, but generally if the sky is clear then the wind is going to pick up! Temperature wise you'll most likely want a long wetsuit here as it can be a little chilly from May to October, but outside of those months a shorty should be ok.
ride type

freeride
freestyle
wakestyle
wave

skill level

beginner
intermediate
advanced
professional
Wind Stats for Anse La Raie Kiteboarding
Around the Kiteboarding Spot Anse La Raie
Mauritius has a lot to offer couples and groups but isn't a great place to be a solo traveller, however there are a bunch of activities to keep you occupied if you're getting sick of kitesurfing or the wind doesn't show. You can go out on a SUP, go dolphin watching, do yoga, go fishing, or just read a book and unwind. If you want to see some of the local scene you can explore the nearby fishing villages, and see them using their traditional methods. Every Friday, the fishermen arrange a Fish Fry event where they fry different ocean fishes and lobsters and showcase their culinary skills, which is worth checking out
camper parking

Not allowed, but possible

emergency

A medical center
A rescue service
Kite repair
How to get to Anse La Raie and how to bring it about while you're there
Catch a flight to Sir Seewoosagur Ramgoolam International Airport (MRU) in Mauritius which is the main airport on the island. It's about 1 hour 15 minutes to Anse La Raie, and you can either take a taxi or rent a car for ease. There isn't much in the way of reliable public transport on Mauritius so having your own transport is definitely helpful, but if you are booking a trip through one of the local kite schools they can also arrange everything for you so you don't need to worry about driving yourself.
Notice
Watch out for the shallow water with rocks and reef.
Not exactly what you are looking for? Use our Kiteboarding Spot Search to find your perfect Kite Spot now!
Wind Forecast for Anse La Raie Kitesurfing
FAQs