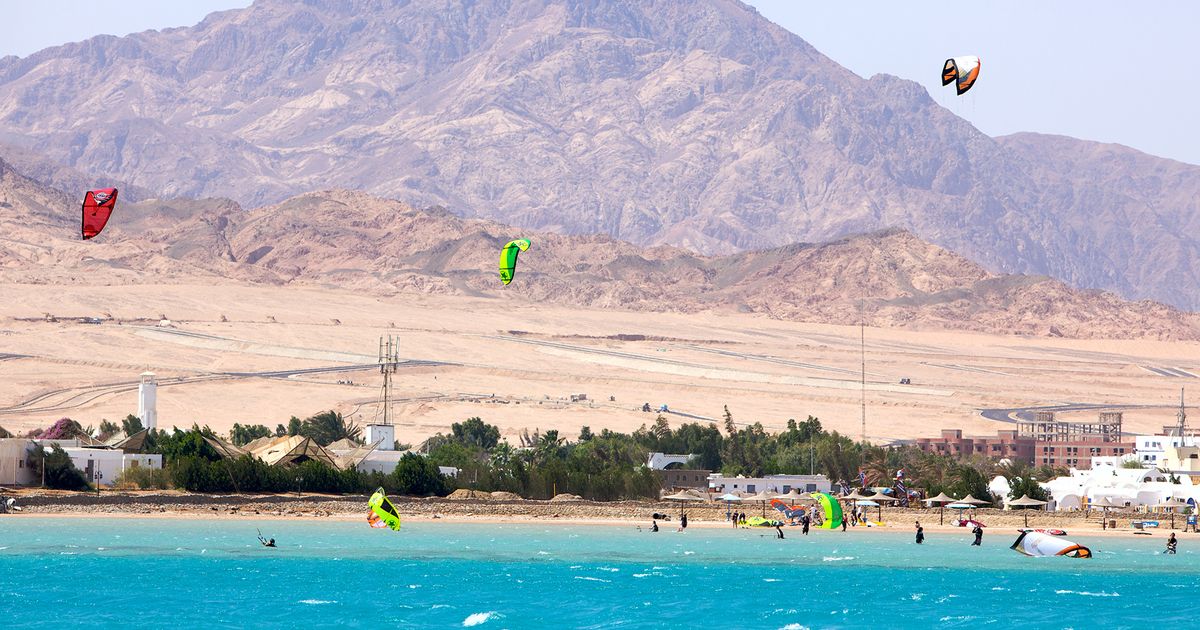 Dahab Lagoon Kitesurf Spot in Dschanub Sina
Africa Kiteboard Spot in Egypt
The kite spot Dahab used to be a small hidden hippie village in old times, then windsurfers took over for a while, and now it is a gold mine for kitesurfing in Egypt. Kiteboarding in Dahab is very popular due to the strong wind, a variety of spots all within pretty easy reach, tons of no wind activities and a great vibe in town with a plethora of bars and restaurants. Kitesurfers love the Dahab lagoon because of the side shore breeze, the shallow warm water and because there is plenty of room. You can launch your kite from a sandy beach, and the lagoon works for kitesurfing at high and low tide, although you should be careful in certain spots at low tide.
Kitesurf nearby
Kitesurf Schools
Coming soon
Dahab Lagoon
beginner, sandy beach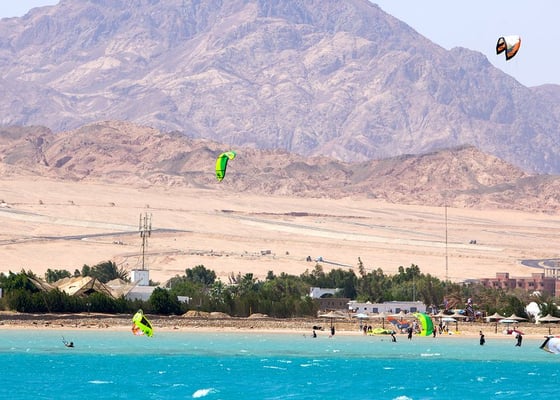 Dahab Lagoon Kitesurfing wind conditions
Dahab is known for being windy, and with around 300 days of kiteable wind per year it's no surprise it's been popular among windsurfers and kitesurfers for years! The wind can come any time of year but the main season for kitesurfing is from March to November when it's a little warmer. During those times the wind will often blow 25 knots or more, but Egypt can be very hit or miss so sometimes there will be a few days with nothing. The wind in Dahab isn't always shown on the forecast as it's thermal, so for the most accurate information it's best to get in touch with the local kite schools and ask how the wind is. They will be able to tell you if it's worth heading out!
Summer temperatures average above 30 degrees celsius, but the low humidity and breeze protect from feeling as sweltering as you might expect. Summer water temperatures range from 23 to 28 degrees Celsius, while winter temperatures range from 19 to 25 degrees Celsius. The winter from December until February can get pretty chilly as Egypt isn't built for the cold, so you'll want a wetsuit if you visit in these months, and it is highly recommended that you take warm clothing for the evenings, even if the weather isn't super cold.
ride type

freeride
freestyle
wakestyle

skill level

beginner
intermediate
advanced
professional

wind daytime

in the afternoon
midday
in the morning
Wind Stats for Dahab Lagoon Kiteboarding
Around the Kiteboarding Spot Dahab Lagoon
Dahab has that allure that pulls people back, which reflects why there are so many yoga, wellness, spiritual, and healing courses going on here. Dahab has a lot of vitality; the sunrise and sunset are lovely times of day, the sand is gold, and the sea has a pinkish tinge to it. You can also watch the moon rise over the Saudi mountains while relaxing in a quiet café or bar on the beach with sundowners and shisha — the beauty will take your breath away. Dahab still has a primitive vibe; you won't find any luxury restaurants here, which is something of its charm, but you will still be able to get all you need when it comes to groceries, cosmetics, and hospitals.
Dahab is also famous for diving and snorkelling right off the beach, or just a little further away you can see the Blue Hole, which is incredible to experience even if you are just snorkelling. If for any reason you are unable to find what you are looking for, Sharm El Sheikh is only an hour away by taxi or bus and has much more of a party scene going on!
camper parking

Not allowed, but possible

emergency

A medical center
A rescue service
Kite repair
How to get to Dahab Lagoon and how to bring it about while you're there
Sharm El Sheikh International Airport (SSH) is the closest airport to the kitesurf spot, and is about an hour from Dahab by taxi. It's also possible to get the bus from Sharm to Dahab, gobus are the biggest local bus/coach company. Most places in Dahab itself are just within walking distance, and it shouldn't take more than 20-25 minutes to go from one place to another. To get to the lagoon from Dahab town you'll need to get a taxi or jump in the back of a pickup, just make sure you agree a price up front with the driver so you don't get ripped off.
Notice
The Kite lagoon is dependent on low tide and in the summer only in a period of 4 hours daily usable. In winter, the lagoon is mostly always usable. The water is very shallow there, so it can be dangerous for "departures". We recommend you to organize a transport from the airport to your place to stay in advance. There is a high chance that your plane will arrive late night and there are not enough Taxi to grab. If you do have a weak stomach make sure to bring some medication with you. Make sure to bring some warm clothing with you, it might get cold at night.
Not exactly what you are looking for? Use our Kiteboarding Spot Search to find your perfect Kite Spot now!
Wind Forecast for Dahab Lagoon Kitesurfing