Lagoa de Albufeira Kitesurf Spot in Setubal District
Europe Kiteboard Spot in Portugal
Portugal's coastline is a mosaic of kitesurfing spots, and one gem that stands out is Lagoa de Albufeira, a picturesque lagoon nestled in the municipality of Sesimbra. A mecca for wind enthusiasts, this spot offers the unique blend of a sheltered lagoon and the open Atlantic, making it perfect for riders of all skill levels.
Kitesurf nearby
Kitesurf Schools
Coming soon
Lagoa de Albufeira
beginner, sandy beach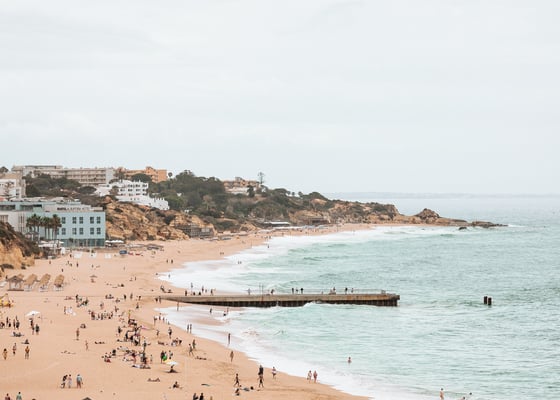 Lagoa de Albufeira Kitesurfing wind conditions
The wind in Lagoa de Albufeira tends to be consistent throughout the year, with the best conditions being from May to October. The lagoon benefits from the dominant North to Northwest thermal winds, creating ideal side-onshore conditions for kitesurfing. The wind strength is typically in the range of 15 to 25 knots, perfect for both freestyle and freeride kitesurfing. The lagoon's shallow, flat water adds an extra layer of safety and control, making it an excellent spot for beginners to learn and for seasoned riders to master new tricks.
ride type

freeride
freestyle
wakestyle

skill level

beginner
intermediate
advanced
professional
Wind Stats for Lagoa de Albufeira Kiteboarding
Around the Kiteboarding Spot Lagoa de Albufeira
Lagoa de Albufeira is a serene escape from the hustle and bustle. Its tranquil environment is home to diverse bird species, making it a popular spot for nature lovers. Aside from kitesurfing, the area offers a plethora of outdoor activities, including stand-up paddleboarding, birdwatching, and fishing. Just a short drive away, you can explore the charming town of Sesimbra with its quaint cafes, traditional Portuguese restaurants, and the historic Moorish castle offering panoramic views of the surrounding area.
How to get to Lagoa de Albufeira and how to bring it about while you're there
Lagoa de Albufeira is about a 40-minute drive from Lisbon. Head south on the A2 and then take the exit toward N378-1. Public transportation is also available but may require several transfers. Once there, you can navigate the lagoon area on foot. For further exploration, a car is recommended.
Notice
The lagoon is part of a nature reserve, so please respect local wildlife and adhere to regulations.
Not exactly what you are looking for? Use our Kiteboarding Spot Search to find your perfect Kite Spot now!
Wind Forecast for Lagoa de Albufeira Kitesurfing
FAQs