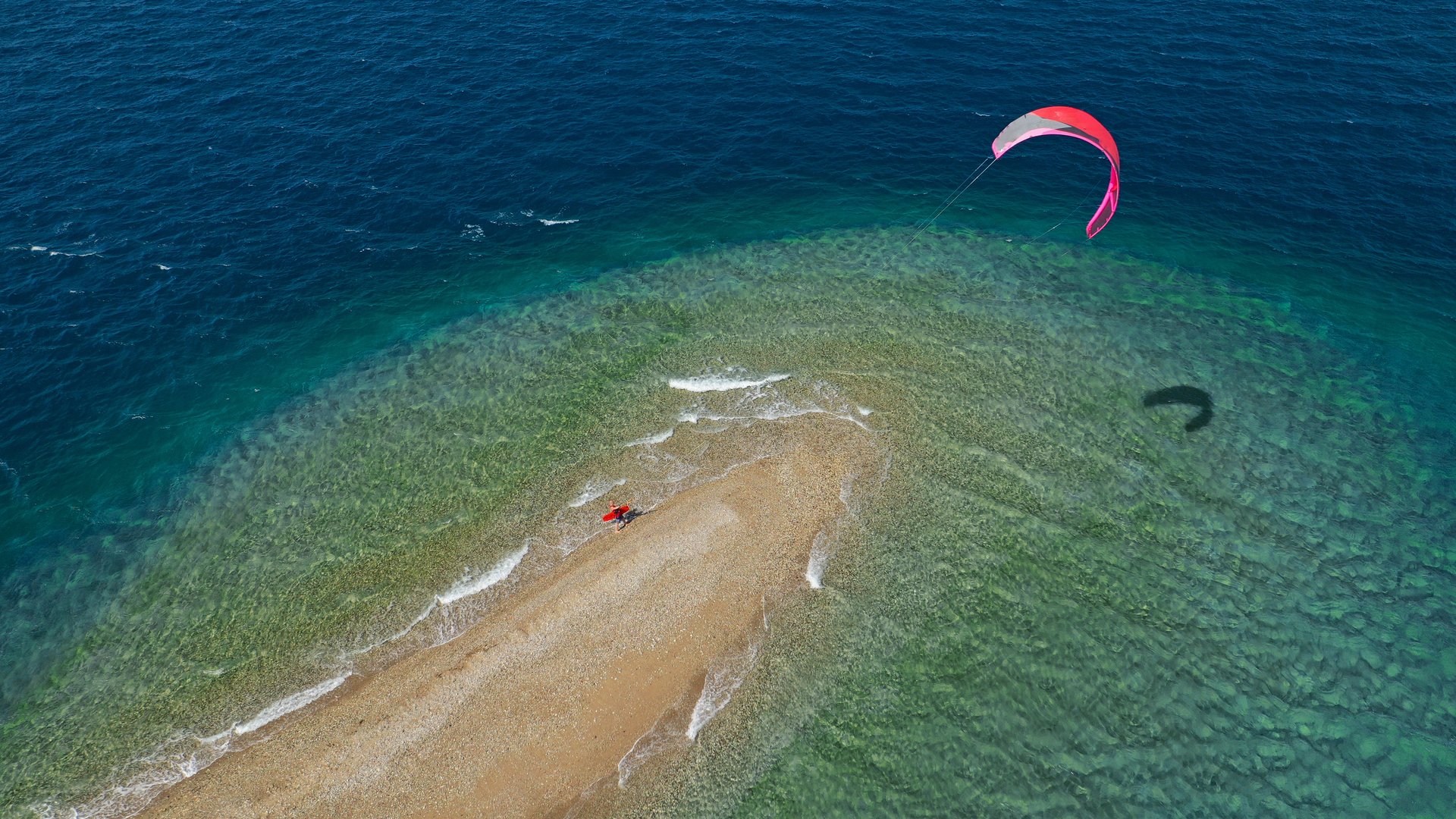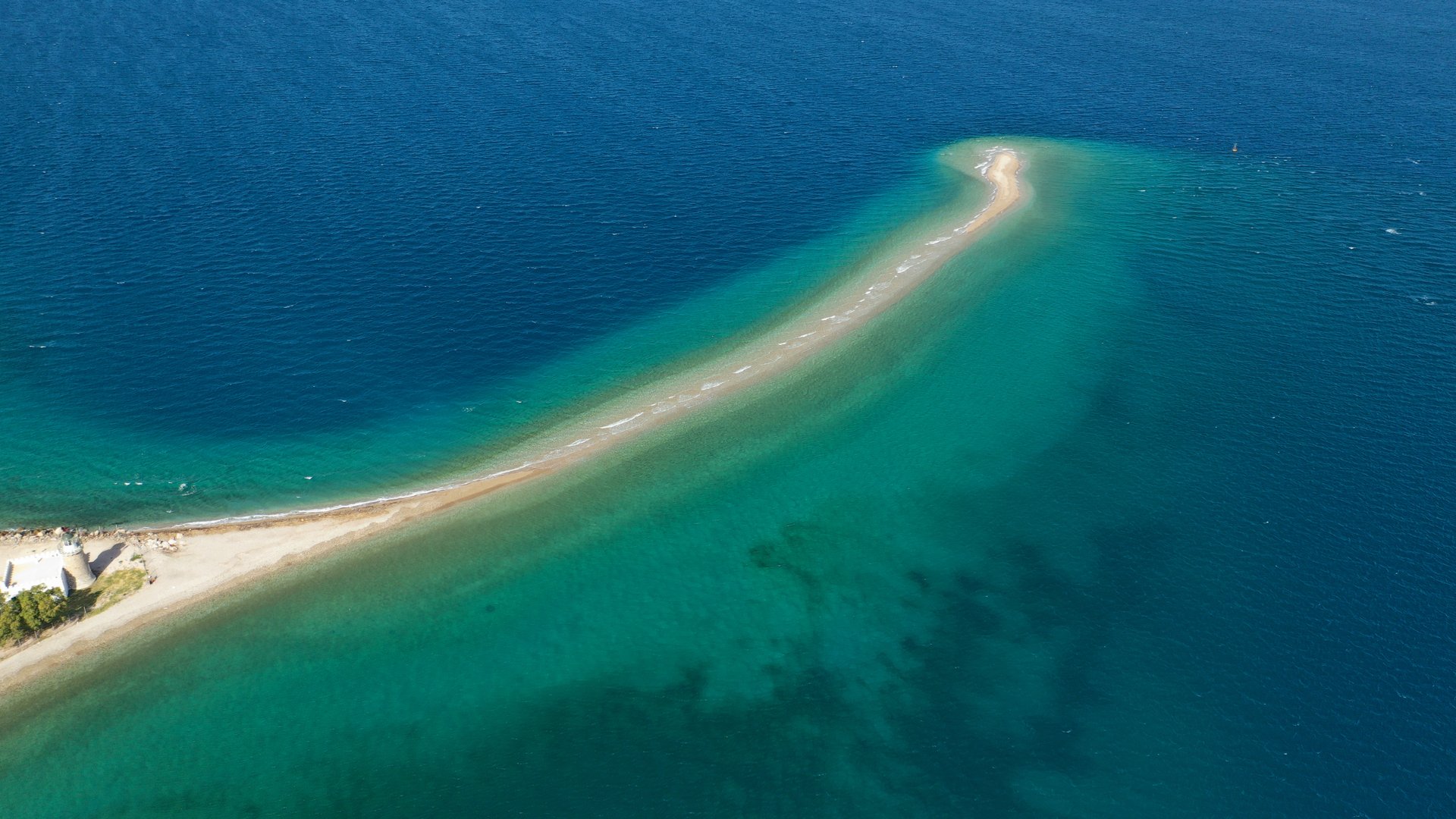 Cape Drepano Kitesurf Spot in Peloponnese
Europe Kiteboard Spot in Greece
Cape Drepano Kite Spot has become famous in recent years as pro kitesurfers like Youri Zoon and Paula Novotna have been going there to train, and posting pictures and videos of this idyllic flat water spot on instagram. It offers steady wind and butter flat water behind the "sand" bank at low tide in both West and East wind directions, and you can kitesurf year round, although summer is the main season. It offers wind 250+ days per year but can be fickle and sometimes only a few hours kitesurfing at a time, so it's best to consult the forecasts and get in touch with the local kite schools if you aren't sure.
As it's not far from Athens it can get crowded with other kitesurfers particularly at weekends in the season, and you're pretty likely to run into European pro kitesurfers as it's a nearby destination with consistent wind. Due to the wind direction, size and shape of the spot this is much more suited to intermediate and advanced riders who are comfortable riding in a rotation: i.e. come in, do your trick, ride out, repeat, so everyone gets a spot to practice. You can learn here with a local school if they offer boat rescue, but it's not a particularly beginner friendly place.
Kitesurf nearby
Kitesurf Schools
Coming soon
Cape Drepano
intermediate, stony beach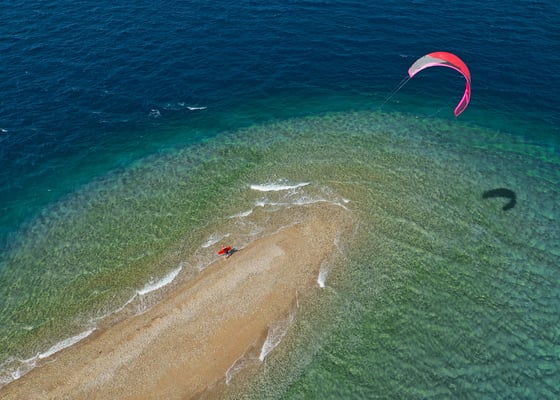 Cape Drepano Kitesurfing wind conditions
You can get wind for kitesurfing in Cape Drepano at any time of year, but the main season is from May until October when the temperature is hot enough to make the thermal wind work. In this time when it is windy it generally averages over 20 knots, but as it's a thermal spot the wind forecast can be unreliable, so keep an eye also on the weather forecast. When it's sunny and with wind from the West there is a better chance for the wind to come through, even with a low wind forecast. Your best bet for local knowledge is to get in touch with the local kite schools.
The wind here is generally lighter in the morning and picks up for the late morning and afternoon as the thermal builds, but it can come at any time which means it can also get busy as everyone rushes to hit the water at the same time. The kite setup and launch area can be very crowded, so be aware of others around you. In summer you'll probably want a short wetsuit to keep the chill off, and if you visit in the winter months you'll want a long wetsuit. The "sand" bank is actually made of stones, so you might want a pair of booties if you are just learning.
ride type

freeride
freestyle
hydrofoil
wakestyle

skill level

intermediate
advanced
professional
Wind Stats for Cape Drepano Kiteboarding
Around the Kiteboarding Spot Cape Drepano
Cape Drepano kite spot itself doesn't offer much, but there are some cafes and restaurants in nearby Drepano. It's also a stunning area so renting a bicycle to enjoy the natural beauty is always an option when you're not kitesurfing, but you'll want a car to make the most of your time here. Going a little further afield Nafpaktos and Patras are the nearest larger towns, where you can find a bit more going on as well as some more history and culture if that's your thing. Check out the castle in Nafpaktos for an enjoyable afternoon, just be aware you'll need to pay the toll to cross the bridge to get there
emergency

A medical center
A rescue service
Kite repair
How to get to Cape Drepano and how to bring it about while you're there
Fly into Athens International Airport (ATH) and rent a car to get to Drepano, you'll want the car to get around anyway as the spot isn't near any of the accommodation options. It's around a 2 hour drive from the airport to Drepano and is a pretty easy drive on good roads.
Notice
Very small area for setting up and launching/landing. Be aware of the current.
Not exactly what you are looking for? Use our Kiteboarding Spot Search to find your perfect Kite Spot now!
Wind Forecast for Cape Drepano Kitesurfing