Puttalam - the big Kahuna Kitesurf Spot in Kalpitiya
Asia Kiteboard Spot in Sri Lanka
Puttalam, a district located in the North Western Province of Sri Lanka, is an absolute paradise for kitesurfers. The crown jewel of the area is undoubtedly the Big Kahuna, a popular kitesurfing spot that offers ideal wind conditions, breathtaking views, and a kitesurfing experience that's second to none. Whether you're a seasoned pro or a curious beginner, Big Kahuna in Puttalam will exceed your expectations and provide a thrilling adventure on the waves.
Kitesurf nearby
Kitesurf Schools
Coming soon
Puttalam - the big Kahuna
intermediate, deep water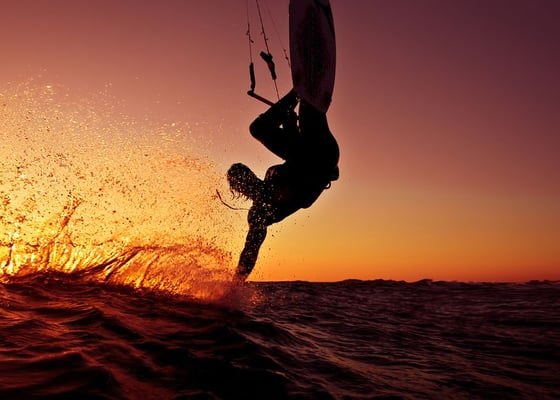 Puttalam - the big Kahuna Kitesurfing wind conditions
Puttalam's Big Kahuna is revered by kitesurfers for its reliable wind conditions. The area experiences consistent cross-onshore winds throughout the year, providing excellent conditions for kitesurfing. During the monsoon season from May to October, the wind speed averages around 18-20 knots, perfect for riders starting intermediate level. Given the unability to land during Downwinders, it is not recommended for Beginners. The wind direction typically shifts from south-west to north-west, making it an ideal spot for both left-foot and right-foot forward riders. The spot is characterized by a blend of flat water and small to moderate waves, suitable for freeriding and freestyle riding styles. Let's not get carried away with the wind stats, Sri Lanka has 2 seasons.

Southwest Monsoon Season (Yala Monsoon): This season typically runs from May to September. During this period, winds predominantly blow from the southwest, making the western and southern coasts of Sri Lanka ideal for kitesurfing. Spots like Kalpitiya Lagoon and Big Kahuna in the Puttalam area become popular during this period due to the consistent, strong winds that are ideal for the sport. The wind strength during this season often averages between 15-30 knots. It's worth noting that this season also tends to bring more rain, particularly in June and July.
Northeast Monsoon Season (Maha Monsoon): This season usually extends from December to February. During the northeast monsoon, the wind direction reverses, blowing from the northeast. This makes the eastern and northeastern coasts, like Trincomalee and Arugam Bay, more favorable for kitesurfing. However, the wind conditions during this season are generally less consistent and strong compared to the southwest monsoon, and wind strength varies greatly, typically ranging from 10-20 knots. The weather during this season tends to be drier with less rainfall.

The periods between the two monsoons, around March-April and October-November, are known as inter-monsoon periods and are characterized by variable and less predictable wind conditions.
ride type

freeride
freestyle
hydrofoil

skill level

intermediate
advanced
professional
Wind Stats for Puttalam - the big Kahuna Kiteboarding
Around the Kiteboarding Spot Puttalam - the big Kahuna
The area around Big Kahuna is rich with natural beauty and cultural experiences. The Wilpattu National Park, one of the oldest and largest wildlife sanctuaries in Sri Lanka, is a short drive away, offering a chance to witness leopards, elephants, and various bird species. Puttalam itself is a vibrant town filled with friendly locals, delicious food, and bustling markets. For kitesurfers wanting to take a day off from riding, boat tours in the Puttalam Lagoon offer serene views and the opportunity to see dolphins and diverse birdlife. However, like many ecosystems, the Puttalam Lagoon faces environmental challenges such as pollution, overfishing, and the impacts of climate change. Efforts have been made locally and nationally to preserve this unique and important ecosystem. Do not expect to stay there, you will need to book a Downwinder tour as there are no hut's to start from. It's going to be in and out, having great Downwinder fun.
camper parking

Not allowed, but possible
How to get to Puttalam - the big Kahuna and how to bring it about while you're there
To reach Big Kahuna in Puttalam, international travelers typically fly into Bandaranaike International Airport in Colombo, and then hire a taxi or take a bus to Puttalam, which is approximately a 3-hour drive. In Puttalam, tuk-tuks are a popular and affordable mode of transportation for getting around locally, including to and from the Big Kahuna spot. Rental scooters or bikes are also available for those preferring more freedom in their movement.
Notice
There may be seasonal restrictions due to conservation efforts, so be sure to check with local authorities or your accommodation provider. The nearest medical facilities are in Puttalam town, about 30 minutes away from the spot. Book with a local kite school / accomodation since the region is poorly developed. They will make sure you get food and drinks to the kitesurfing spots.
Check out https://www.bluewatersrilanka.com/ or
https://www.kitesurfinglanka.com/
Not exactly what you are looking for? Use our Kiteboarding Spot Search to find your perfect Kite Spot now!
Wind Forecast for Puttalam - the big Kahuna Kitesurfing
FAQs