Palawan Kitesurf Spot in Palawan
Asia Kiteboard Spot in Philippines
When you talk about the Mecca of kitesurfing in the Asian continent, Palawan Island has to chart the list. Residing on the western barriers of the Philippines, this luxurious kite spot has created quite a buzz among the kitesurfer communities worldwide. With emerald green crystal clear water, blending horizons from all ends, and glittery white dunes, this place manages to attract lots of adventure seekers and family trippers throughout the year. For kiteboarding, Palawan offers flat to choppy water beds, perfect beach breaks, and reliable Passat wind conditions. To ensure kiteboarders' safety, here you'll find a medical center, kite repairing centers, and emergency services. So, if you want to have a lazy beach vacay and enjoy the kitesurfing craft to your heart's content, Palawan awaits you.
Kitesurf nearby
Kitesurf Schools
Coming soon
Palawan
beginner, sandy beach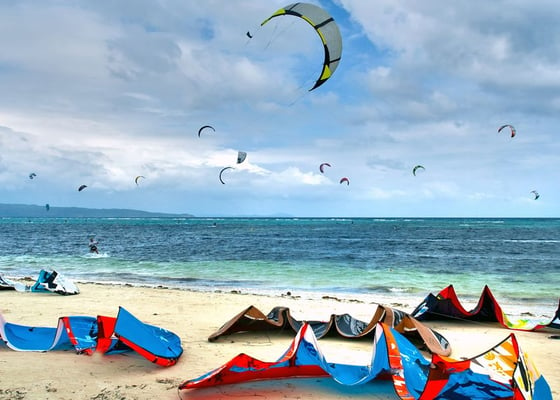 Palawan Kitesurfing wind conditions
Palawan Island offers a stable and reliable Passat trade wind during the peak seasons. The kitesurfing peak season falls between October to March. During these months, the onshore and side onshore wind blows from the northeastern corners, with the wind speed ranging between 15 to 20 knots. You get the most affordable wind during the mid-day. However, the wind speed can extend up to 35 knots on certain days in the peak kiteboarding months, i.e., November, December, January, and February. The beginning of October is considered the early season, whereas the end of March, falls in the late season.
ride type

freeride
freestyle
wakestyle
wave

skill level

beginner
intermediate
advanced
professional
Wind Stats for Palawan Kiteboarding
Around the Kiteboarding Spot Palawan
Palawan beach resides in the laps of the South China Sea and the Sulu Sea that merge together coming from the northwest and southeast corners of the Palawan Island in the Philippines. This place has emerged as a significant kitesurf spot for all the right reasons. With flat and mediumwave patterns, this place offers the perfect surfing conditions for beginners and intermediates. And for pro-level kiteboarders, this place reserves the choppy water areas. Due to such favorable conditions, freestylers, wakestyle surfers, and freeriders keep flocking in here during the seasons. The beach offers great seaside accommodations and kitesurfing rental services. With the magnificent beauty, tropical summer breeze, and vibrant beach lifestyle, you'll be glued to Palawan and keep coming back.
If you are done with your kitesurfing adventure and still have a couple of nights to spend in Palawan, then fret not. This place offers a host of other happening activities apart from kiteboarding. For starters, you can enjoy other water sports like windsurfing, SUP, wave surfing, beach hockey, buggy rides, jet ski, leisurely fishing, and many more. The water of Palawan reserves a great variety of seaweeds and other aquatic floras and faunas. Take a deep dive and explore them. Off the beach, you get a vibrant lifestyle to explore through local trails and hiking trips. Treat your culinary desires with exotic seafood varieties that this place has to offer.
camper parking

Not allowed, but possible
How to get to Palawan and how to bring it about while you're there
Palawan is perhaps the most beautiful beach in the entire Philippines. If you are traveling internationally, Puerto Princesa International Airport is the closest airport to the place. From there, Palawan is just 10.8 km away, which means it will take around 19 mins via Puerto Princesa North Road. Public transport is not easily available, so we recommend you hire a vehicle to make your journey easy and hassle-free.
Notice
Watch out for the seaweed in the water.
Not exactly what you are looking for? Use our Kiteboarding Spot Search to find your perfect Kite Spot now!
Wind Forecast for Palawan Kitesurfing
FAQs