Bloubergstrand Kitesurf Spot in Western Cape
Africa Kiteboard Spot in South Africa
One of the best known spots in all of kitesurfing, Bloubergstrand is kiteboarding heaven if you want to boost monster jumps and kiteloops, or shred some amazing waves with your kite and enjoy endless downwinders. The wind on Bloubergstrand in the season is strong and the waves can get really big, so it's definitely a spot more suited to kitesurfers with some experience. With Cape Town a short drive away, a beautiful spot with Table Mountain for a backdrop, and amazing food and drink on offer there are several very good reasons this place fills with kiteboarders during the South African summer. Bloubergstrand is also a fantastic spot for family holidays, as South Africa offers so much variety other than just kitesurfing.
Kitesurf nearby
Kitesurf Schools
Coming soon
Bloubergstrand
intermediate, sandy beach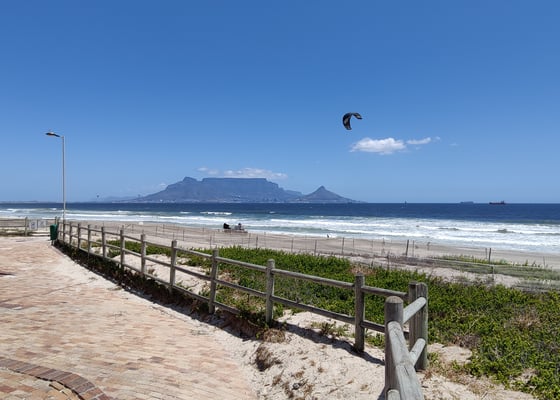 Bloubergstrand Kitesurfing wind conditions
Bloubergstrand describes a long stretch of beach which has various parking, launching and landing spots, so Dolphin beach, Sunset beach, Kite beach are all along this stretch and the kiteboarding conditions are fairly similar all along the beach.
The Cape Doctor is the local name for the cross shore wind which blows between September and April, with the most consistent kitesurfing months being December until March. The wind comes down off Table Mountain and roars across the bay, starting a bit lighter in the morning but averaging 25+ knots most afternoons. You'll definitely want to have some small kites in your bag when travelling here, with 7-9m kites generally for the big air guys, and it's not unusual to see 80+kg guys riding 4 or 5m kites in the waves. The water is cold so don't be fooled by the sunny weather, you'll definitely want a decent wetsuit here for longer kitesurfing sessions; 4/3mm or thicker would be suggested.
skill level

intermediate
advanced
professional
Wind Stats for Bloubergstrand Kiteboarding
Around the Kiteboarding Spot Bloubergstrand
Around Blouberg itself there are plenty of bars and restaurants, kite shops, supermarkets and other shops so you don't need to travel far to get everything you need, but we'd highly recommend exploring further afield if you make the trip to South Africa. The various vineyards nearby offer an excellent day out, and there are plenty of tours and drivers on offer so you don't have to drive yourself, or just make sure you have a designated driver as the wines are amazing!
Bloubergstrand is about a 20-25 minute car drive away from the city center of Cape Town, where you'll find plenty more bars and restaurants as well as shopping malls if that's your thing. Hiking up Table Mountain is a must if you are visiting Bloubergstrand, either with a guide or you can just follow the trails yourself or with a group of others. There are always other kitesurfers looking to hike up and enjoy the view, so solo travellers can always find a group to join.
There's really too much on offer to include here, but for starters maybe check out the Cape Point national park and the Cape of Good Hope, Boulders beach to meet some penguins, and Bay Harbour market in Hout bay.
emergency

A medical center
Kite repair
How to get to Bloubergstrand and how to bring it about while you're there
Fly into Cape Town international airport (CPT) and Blouberg is around 30-40 minutes by car. If you are staying right on the beach in Blouberg you won't need a car as a lot is reachable on foot, but it's definitely recommended to rent a car for your stay in South Africa. You can book one in advance from the airport or there are budget options which cater to kitesurfers around Cape Town and Blouberg.
Notice
Be careful in South Africa, don't leave valuables in your car and be alert as crime is a problem here with a large divide between the wealthy and poor areas. You definitely wouldn't be the first to have all your kite gear stolen from the back of your car in broad daylight. That's not to put you off, it's an incredible spot and a stunningly beautiful country, just have your wits about you and you'll be fine.
Not exactly what you are looking for? Use our Kiteboarding Spot Search to find your perfect Kite Spot now!
Wind Forecast for Bloubergstrand Kitesurfing
FAQs