Big bay Kitesurf Spot in Capetown
Africa Kiteboard Spot in South Africa
Big Bay Kite Spot offers big clean waves and pumping wind for more experienced kitesurfers, which is why the yearly Red Bull King of the Air competition was originally held there before it moved up the road to kite beach. It's also a popular spot for surfers and windsurfers so it can get quite busy, but on perfect days it doesn't get much better than kitesurfing at Big Bay. There is a promenade with cafes, bars and kite shops, and a grassy green overlooking the beach itself which is a great place to sit and watch the pros even if you aren't out kiteboarding yourself.
Big Bay is only an hour or so from Cape Town, 'The Mother City', and South Africa offers a whole lot more than just kitesurfing, which is why kitesurfers from around the world descend here in large numbers from December until March every year.
Kitesurf nearby
Kitesurf Schools
Coming soon
Big bay
advanced, sandy beach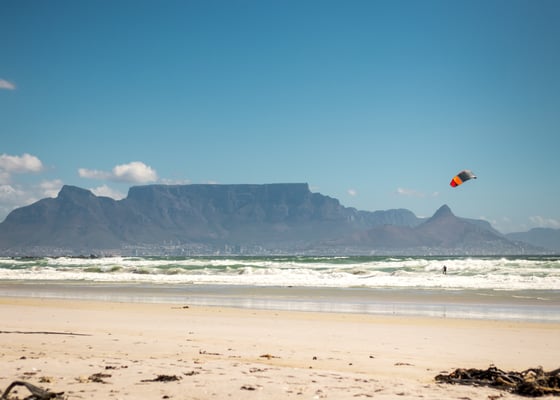 Big bay Kitesurfing wind conditions
Big Bay tends to get slightly less wind than kite beach and the other spots, but the waves hold up cleanly even in super strong wind which makes it a great kite spot for strong wind days. The wind also tends to pick up a little bit later in the day, so early morning kitesurf sessions may be better elsewhere. The wind in peak season January until March can range from 20-40 knots, and is a little gusty on the beach and close by, but once you kitesurf out a little it gets much better.
There are rocks at either end of Big Bay, and it's a popular windsurf and surfing spot so be careful and check before you jump that you have clear water and enough room downwind! The beach can be small at high tide making rigging and launching your kite difficult, so this is definitely not a spot for beginner kitesurfers. Less experienced kiteboarders might enjoy themselves more at kite beach, and beginners should think about a trip to Langebaan, about an hours drive away.
ride type

freeride
freestyle
wakestyle
wave
Wind Stats for Big bay Kiteboarding
Around the Kiteboarding Spot Big bay
Big Bay is a bustling little spot, popular among tourists and locals alike, with bars, cafes, restaurants and kite shops right on the spot. You can kite hard and enjoy the finer things all within easy reach of the kite spot here. A bit further afield it's well worth hiking up Table Mountain for the stunning views over Cape Town and the bay itself, or driving round to see the penguins at Boulders beach and further to the Cape of Good Hope. It would also be a shame to visit Big Bay just for kitesurfing and not go on a vineyard tour nearby, which are educational as well as enjoyable, and there are plenty of drivers so you can enjoy a few glasses of South African wine and some delicious food!
emergency

A medical center
A rescue service
How to get to Big bay and how to bring it about while you're there
Fly into Cape Town international airport (CPT) and then rent a car and drive yourself to Big Bay. It'll take around 45 minutes to an hour depending on traffic. A rental car is really essential anywhere in and around Blouberg for ease getting around, just be careful not to leave any valuables in your car as theft is a big issue here.
Notice
It`s a pretty rough kite spot. Not for beginners or intermediate kiter. Whatch out for the small rocks bit up north, in some periods they are not visible. For safety have a check with the liveguards on the beach before going kiting.
Not exactly what you are looking for? Use our Kiteboarding Spot Search to find your perfect Kite Spot now!
Wind Forecast for Big bay Kitesurfing
FAQs