Galinhos Kitesurf Spot in Rio Grande
South America Kiteboard Spot in Brazil
The Kite Spot Galinhos is still an uncrowded Spot that offers more than some other Spots in Brazil. This spot is a real highlight with unique spot characteristics. In addition, due to some local strengthening effects, the Kite Spot Galinhos also has an even stronger wind than the area around Fortaleza. The wind blows mostly continuously, but builds up to full strength only by midday.
Kitesurf nearby
Kitesurf Schools
Coming soon
Galinhos
beginner, sandy beach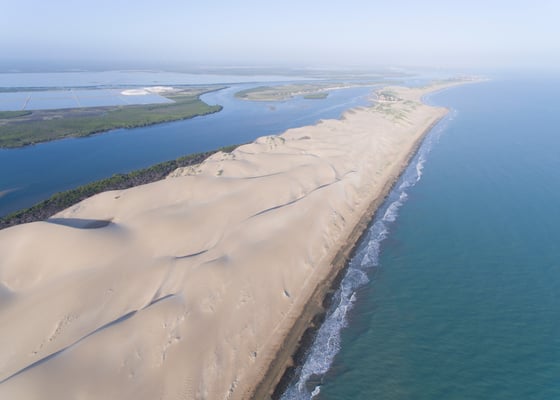 Galinhos Kitesurfing wind conditions
Galinhos benefits from a consistent trade wind known as the "Leste." With wind speeds ranging from 15 to 25 knots, kitesurfers can enjoy optimal conditions for freeriding, freestyle, and even wave riding. The wind typically blows from east to northeast, providing reliable and steady gusts that make Galinhos a sought-after destination for kitesurfing.
ride type

freeride
freestyle
wakestyle
wave

skill level

beginner
intermediate
advanced
professional
Wind Stats for Galinhos Kiteboarding
Around the Kiteboarding Spot Galinhos
Welcome to Galinhos, a hidden gem for kitesurfing in Brazil. With its pristine beaches, turquoise waters, and consistent wind, Galinhos offers an idyllic setting for kitesurfing enthusiasts. Whether you're a beginner or an experienced rider, Galinhos promises exhilarating rides and unforgettable moments in a tranquil and natural paradise. The kite spot in Galinhos offers more than just incredible wind conditions. As you ride the waves, you'll be surrounded by breathtaking natural beauty. Galinhos is known for its unspoiled beaches, lush mangroves, and stunning sand dunes. The area is rich in marine life, and you may even spot dolphins and sea turtles during your kitesurfing sessions.
How to get to Galinhos and how to bring it about while you're there
To reach Galinhos, the nearest major airport is Natal International Airport. From there, you can hire a car or take a transfer to Galinhos, which is approximately a three-hour drive away. Once in Galinhos, you can navigate the area by walking or renting a buggy, as the town is small and easily accessible. Many accommodations are conveniently located near the kite spot, allowing for easy access to the beach.
Notice
Before kitesurfing in Galinhos, familiarize yourself with the local regulations and guidelines.
Not exactly what you are looking for? Use our Kiteboarding Spot Search to find your perfect Kite Spot now!
Wind Forecast for Galinhos Kitesurfing
FAQs