Silvaplana Kitesurf Spot in Upper Engadine
Europe Kiteboard Spot in Switzerland
Silvaplana Kitesurfing Spot is located in the beautiful region of Upper Engadine in Switzerland, Lake Silvaplana is a world-renowned kitesurfing destination. It's not just the crystal-clear waters and stunning mountain backdrop that make this lake a haven for kitesurfers. It's also the consistent winds, particularly the famous Maloja wind, that make it an ideal location for this extreme sport. The Maloja wind is a natural phenomenon that occurs when cold air from the Maloja Pass rushes down towards the lake, providing reliable and strong winds that kitesurfers can rely on. With tranquil waters and ideal kitesurfing conditions, Lake Silvaplana offers a truly unique kitesurfing experience that's hard to match. Whether you're a seasoned pro or a beginner looking to learn, the lake's mesmerizing scenery, perfect winds, and serene atmosphere make it the ultimate destination for your next kitesurfing adventure.
Kitesurf nearby
Kitesurf Schools
Coming soon
Silvaplana
beginner, grass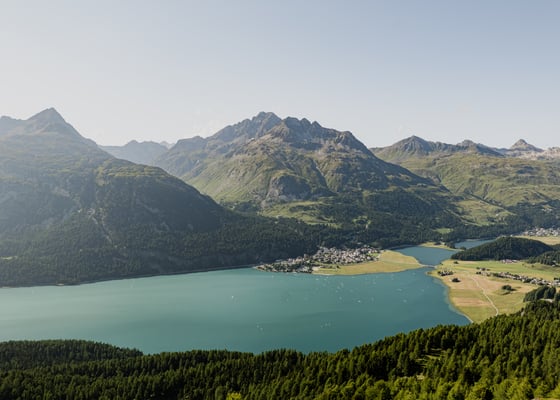 Silvaplana Kitesurfing wind conditions
The best time to visit Lake Silvaplana for kiteboarding is from May to September, during which the Maloja wind blows with reliable and consistent conditions. With the picturesque backdrop of the Swiss Alps, you can expect to enjoy tranquil waters and perfect wind conditions. The temperature ranges from 18 to 25 degrees Celsius during this period, so while you can wear a t-shirt during the day, a wetsuit is essential for kitesurfing, especially in the evening when it can get chilly. Kitesurfing at Lake Silvaplana is very popular, but with its vast expanse of water, there's plenty of space to find your own spot on the lake.
ride type

freeride
freestyle
hydrofoil

skill level

beginner
intermediate
advanced
professional
Wind Stats for Silvaplana Kiteboarding
Around the Kiteboarding Spot Silvaplana
When you're not kitesurfing on Silvaplana Lake, the Upper Engadine region has plenty of things to do, including hiking, biking, and exploring nearby towns. The local town of Silvaplana offers a range of food and drink options, including traditional Swiss cuisine and cozy cafes where you can relax after a long day on the water.
emergency

A medical center
A rescue service
How to get to Silvaplana and how to bring it about while you're there
To get to Lake Silvaplana, you can fly to Zurich Airport and take a train to St. Moritz, which is about 6 kilometers from the lake. Alternatively, you can rent a car or take a taxi from the airport directly to the lake. Once you're there, it's easy to get around on foot or by bike, and there are plenty of accommodation options in the area to suit your needs.
Notice
While the Maloja wind is a reliable and consistent wind, it can also be strong and gusty at times. Make sure to check the wind conditions before heading out, and be prepared for changing conditions. Lake Silvaplana is a protected area, and it's important to minimize your impact on the environment. Avoid disturbing wildlife and be mindful of any trash or debris you leave behind.
The thermal Maloja mostly works as soon as a south or southwest wind strenght of 4 knots upward is announced or the air pressure distribution between northern and southern Switzerland does not differ heavily.

The wind system usually does not work when the wind is coming from north

The wind blows sideshore from the right - almost always very constant

Because of the thin air, bigger kites/sails are necessary than you would use at sea level

The wind is often strongest directly at the spot. More towards the bridge the wind gets less strong
Not exactly what you are looking for? Use our Kiteboarding Spot Search to find your perfect Kite Spot now!
Wind Forecast for Silvaplana Kitesurfing
FAQs