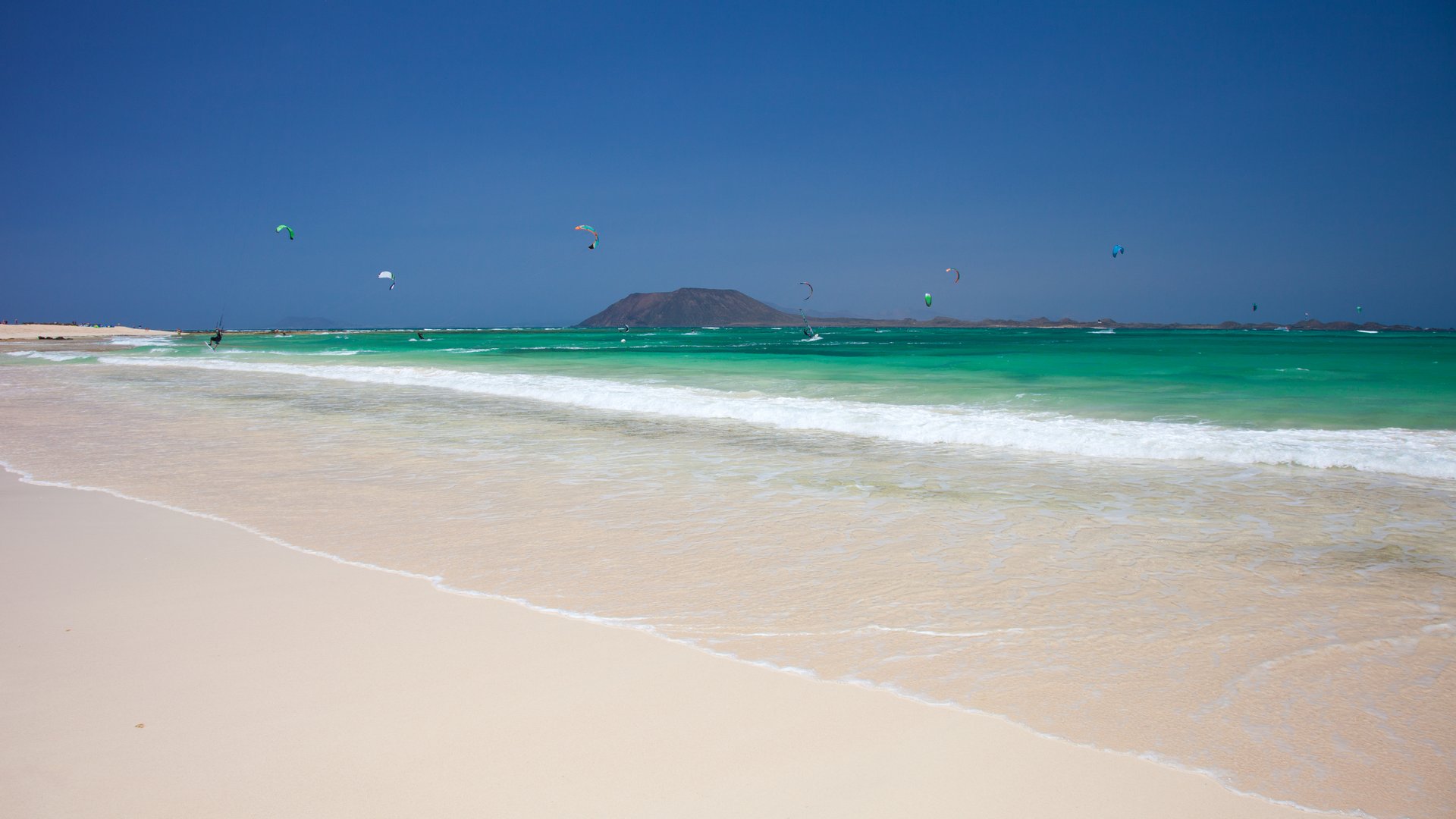 Flag Beach Kitesurf Spot in Fuerteventura
Europe Kiteboard Spot in Spain
Flag Beach is probably one of the most popular spots in Fuerteventura due to the relatively flat water in the summer and a large open beach with plenty of space for loads of kitesurfers to safely ride together. It's also located really close to the popular tourist town of Corralejo which offers restaurants, bars and parties depending on what kind of holiday you are looking for. The wind in the summer is very consistent here with the North East trade wind plus a thermal effect from the island itself ensuring that you'll most likely score some epic kitesurfing. Fuerteventura is only a short flight from most of Europe and with cheap flights and holiday deals it's easy to see why kitesurfers flock here year round.
Kitesurf nearby
Kitesurf Schools
Coming soon
Flag Beach
intermediate, sandy beach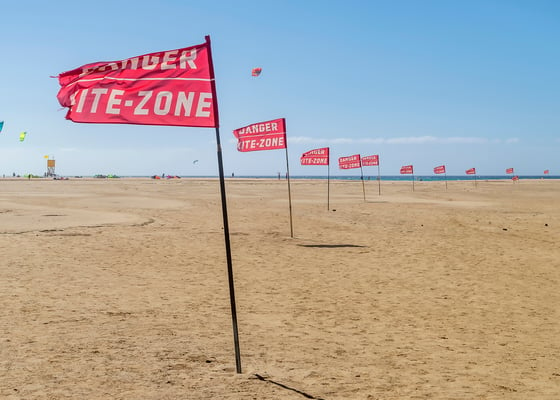 Flag Beach Kitesurfing wind conditions
The wind blows cross shore from the left most of the summer from March until September, and this is also when the water is at its flattest. The wind picks up a little later around lunch time here, so if you want to have a lie in this is a great spot, and you won't be missing any kitesurfing if you are nursing a small hangover! Generally it averages between 15-25 knots here in season, but it will really depend on the day as the thermal wind makes a difference. If you are unsure about the forecast, reach out to the local schools and they can advise you on the likely conditions.
You'll need to be careful at low tide as there are sharp volcanic rocks all over, so particularly when jumping, or entering and exiting the water you'll want to keep your eyes peeled and keep a safe distance. Booties aren't the worst idea if you are learning or not yet 100% comfortable with your kite flying abilities. Generally through the summer you'll be fine with just shorts and a t-shirt for kitesurfing, but early and late season a wetsuit would be advisable. In the winter here you can score waves, but the wind conditions aren't as consistent so planning a kitesurfing trip here from November until February is more hit and miss.
ride type

freeride
freestyle
hydrofoil
wakestyle
wave

skill level

intermediate
advanced
professional
Wind Stats for Flag Beach Kiteboarding
Around the Kiteboarding Spot Flag Beach
Head out snorkelling or diving, rent a SUP, go mountain biking or quad biking, or just drive around the island and check out some of the other spots nearby. Fuerteventura is a touristy place so there are plenty of options to make sure you don't get bored, and if you get island fever you can always catch the ferry to Lanzarote for a day trip.
The island also offers a number of good wave spots especially in the North, so if you want to try out some surfing there are a number of good options.
emergency

A medical center
A rescue service
Kite repair
How to get to Flag Beach and how to bring it about while you're there
Fuerteventura International Airport (FUE) is a short 30 minute drive from Flag beach, and there are numerous public transport options with buses and taxis heading to Corralejo. For exploring the island it's definitely recommended to rent a car, but if you just plan to stay in Corralejo and kitesurf at Flag Beach, then it's totally possible to rely on buses and taxis to get around.
Notice
There is only teaching by boat possible. To be safe you can book the rescue service from the local school at the spot.
Not exactly what you are looking for? Use our Kiteboarding Spot Search to find your perfect Kite Spot now!
Wind Forecast for Flag Beach Kitesurfing